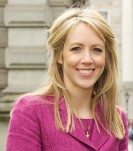 Dr Antoinette Sabrina Perry B.A., PG DIP., Ph.D.    
Lecturer in Cancer Biology, UCD School of Biomolecular & Biomedical Science
UCD Conway Institute
orcid.org/0000-0002-6108-512X,  Scopus ID: 8102556100
Contact: antoinette.perry@ucd.ie
 _____________________________________________________________________________________________________________________________ 
Biographical sketch: Dr Perry studied at Trinity College Dublin, where she graduated with a BA in Human Genetics in 2001. She subsequently secured a post-graduate scholarship from the Irish Research Council to fund her PhD in the field of prostate cancer epigenetics, which she carried out at the Institute of Molecular Medicine, Trinity College Dublin. Upon award of her PhD in 2007, Antoinette continued her post-doctoral research in this field at TCD. In 2009, she was awarded a post-doctoral fellowship from the Irish Cancer Society, and subsequently a Young Investigator award from the US Prostate Cancer Foundation (2011-2014). In 2015, Antoinette was appointed as the Breast-Predict Lecturer in Cancer Biology at the School of Biomedical and Biomolecular Science at UCD. 
Dr Perry's research interests are focused on translational prostate cancer epigenetics; understanding the role of epigenomic aberrations in the pathogenesis of prostate cancer and harnessing these aberrations to develop prognostic and predictive biomarkers. Dr Perry has a particular interest in studying DNA methylation changes in "liquid biopsies" that can act as surrogates for non-invasive tumour detection and monitoring. To this end, Dr Perry is a funded investigator in the Movember GAP1 urine biomarker project and in the Irish Programme for Stratified Prostate Cancer Therapies (iPROSPECT). Dr Perry's research has also highlighted the importance of epigenetic dysregulation of the Wnt and IGF axis in prostate cancer, and has identified a number of potential biomarkers for aggressive prostate cancer.