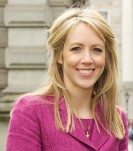 Dr Antoinette Sabrina Perry B.A., PG DIP., Ph.D.    
Assistant Professor in Genetics and Cell Biology, UCD School of Biology & Environmental Science,
O'Brien Science Centre
orcid.org/0000-0002-6108-512X,  Scopus ID: 8102556100
Contact: antoinette.perry@ucd.ie
_____________________________________________________________________________________________________________________________
Biographical sketch:
Dr Perry studied at Trinity College Dublin, where she graduated with a BA in Human Genetics in 2001. She subsequently secured a post-graduate scholarship from the Irish Research Council to fund her PhD in the field of prostate cancer epigenetics, which she carried out at the Trinity Translational  Medicine Institute, Trinity College Dublin. Upon award of her PhD in 2007, Antoinette continued her post-doctoral research in this field at TCD. In 2009, she was awarded a post-doctoral fellowship from the Irish Cancer Society, and subsequently a Young Investigator award from the US Prostate Cancer Foundation (2011-2014). In 2015, Antoinette was appointed as the Breast-Predict Lecturer in Cancer Biology at the School of Biomedical and Biomolecular Science at UCD. In 2018, she took up a post as Assistant Professor in Genetics and Cell Biology at the School of Biology and Environmental Biology, UCD.
Research Interests:
Dr Perry's research interests are focused on translational prostate cancer epigenetics; understanding the role of epigenomic aberrations in the pathogenesis of prostate cancer and harnessing these aberrations to develop prognostic and predictive biomarkers. Dr Perry has a particular interest in studying DNA methylation changes in "liquid biopsies" that can act as surrogates for non-invasive tumour detection and monitoring. To this end, Dr Perry was a funded investigator in the Movember GAP1 urine biomarker project and in the Irish Programme for Stratified Prostate Cancer Therapies (iPROSPECT). Dr Perry's research has also highlighted the importance of epigenetic dysregulation of the Wnt and IGF axis in prostate cancer, and has identified a number of potential biomarkers for aggressive prostate cancer.
Selected publications:
E O'Reilly, A. V. Tuzova, A. L. Walsh, N. M. Russell, O. O'Brien, S. Kelly, O. Ni Dhomhnallain, L. DeBarra, C. M. Dale, R. Brugman, G. Clarke, O. Schmidt, S. O'Meachair, D. Patil, K. L. Pellegrini, N. Fleshner, J Garcia, F. Zhao, S. Finn, R Mills, M. Y. Hanna, R. Hurst, E McEvoy, Movember GAP1 Urine Biomarker Consortium, W. M. Gallagher, R. P. Manecksha, C. S. Cooper, D.S. Brewer, B. Bapat, M.G. Sanda, J. Clark, A. S. Perry.  epiCaPture: A urine DNA methylation test for early detection of aggressive prostate cancer JCO Precision Oncology (2019) PMID: 30801051
Murphy K, Murphy TK, Boyce S, Flynn L, Gilgunn S,  O'Rourke C.J, Rooney C, Stöckmann H, Walsh AL, Finn S**, O'Kennedy R.J **, O'Leary J**, Pennington S.R**, Perry AS**, Rudd PM**, Saldova R**, Sheils O**, Shields D**, Watson RWG. Integrating biomarkers across different omic platforms and biomaterials to stratify patients with indolent and aggressive prostate cancer. Molecular Oncology (2018) EPub ahead of Print. PMID: 29927052 ** denotes equal contribution, authors listed alphabetically.
Zhao F, Olkhov-Mitsel E, Kamdar S, Jeyapala R, Garcia J, Brewer D, Perry AS, Clark J,  Fleshner N, Bapat B. A urine based DNA methylation Assay, ProCUrE, to identify clinically significant prostate cancer. Clinical Epigenetics (2018) 10(1):147. PMID: 30470249
Bruinsma SM, Roobol MJ, Carroll PR, Pickles T, Moore CM, Gnanapraggasam VJ, Villers A, Rannikko A, Valdagni R, Frydenburg M, Kakehi Y, Filson CP, Bangma CH, The Movember Foundation's Global Action Plan Prostate Cancer Active Surveillance (GAP3) consortium (Perry AS). Expert consensus document: Semantics in active surveillance for men with localized prostate cancer – results of a modified Delphi consensus procedure. Nature Reviews Urology (2017) 14(5):312-322. PMID: 28290462.
Bruinsma SM, Zhang L, Bangma C.H, Roobol M.J, Steyerberg E.W, Nieboer D, Van Hemelrijck M, The Movember Foundation's Global Action Plan Prostate Cancer Active Surveillance (GAP3) consortium (Perry AS) The Movember Foundation's GAP3 cohort: A profile of the largest global prostate cancer active surveillance database to date. BJU Int. (2017) Epub ahead of print. PMID: 29247473.